With so many schools utilizing remote, hybrid, or online distance learning environments this year, kids (and their adults) are spending many more hours in front of laptops, tablets, and smart phones. The technology (and teachers!) that have enabled this quick switch to remote learning are incredible! And without simple precautions, all the extra screen time that's being put in on these WiFi, Bluetooth, and cellularly connected devices can have detrimental effects on our health. The good news is, there are ways to use this wonderful technology safely, and end the day energized and calm, rather than anxious and cranky. Excess exposure to blue light and EMFs can be mitigated through simple changes like blue-light blocking glasses, free tools like f.lux or Night Shift, and by using wired ethernet connections. Since so many families are utilizing iPhones & iPads for their kids' at-home learning setup, this article will focus on how to connect iPhones & iPads to the internet via ethernet.
Whether you are troubleshooting a slow or spotty internet connection or trying to minimize EMF exposure and protect your health, an ethernet cable can be the answer. With a laptop computer, ethernet connections are pretty straightforward. But did you know, you can also use an ethernet connection with your iPhone or iPad? This article walks through what you need to connect an iPad or iPhone to the internet so you can create a better (and safer) at-home learning (or working) environment for you and your family.
What are EMFs and Why Do They Matter?
If you are new to EMFs and the health impacts they can have, start here.
How to Connect Your iPhone or iPad to the Internet via an Ethernet Cable
To get your iPhone or iPad connected to the internet via ethernet, you need four things:
Your iPhone or iPad, with a lightning connector port
A lightning-to-ethernet adapter
An ethernet cable
Access to an active ethernet wall port, switch, or the back of your modem or router
Choosing a Lightning-to-Ethernet Adapter
In looking for a lighting-to-ethernet adapter, an important consideration is the ability to power the device while the ethernet connection is in use. Zoom and other video meetings can take a hefty toll on your battery, so an adapter that lets you plug in an ethernet cord and still power your device is a huge plus.
Making the Ethernet Connection
Once you have the adaptor, you'll need an ethernet cable and an active ethernet port. You can get ethernet cables in a variety of lengths, so depending on your setup at home, you may be able to use a short cord (like these Cat 7 Shielded Ethernet Cables) to connect to a nearby ethernet wall jack, or you may have to run a longer ethernet cable directly to your modem or router (like this 50 foot Cat 7 Shielded Ethernet Cable) (affiliate links).
How Does Using an Ethernet Connection Impact Internet Speed and EMF Exposure?
If you're a numbers person, you might be wondering, "what's the real difference in using WiFi vs ethernet? Is it really worth dealing with a cord?"
In this case, the numbers speak for themselves: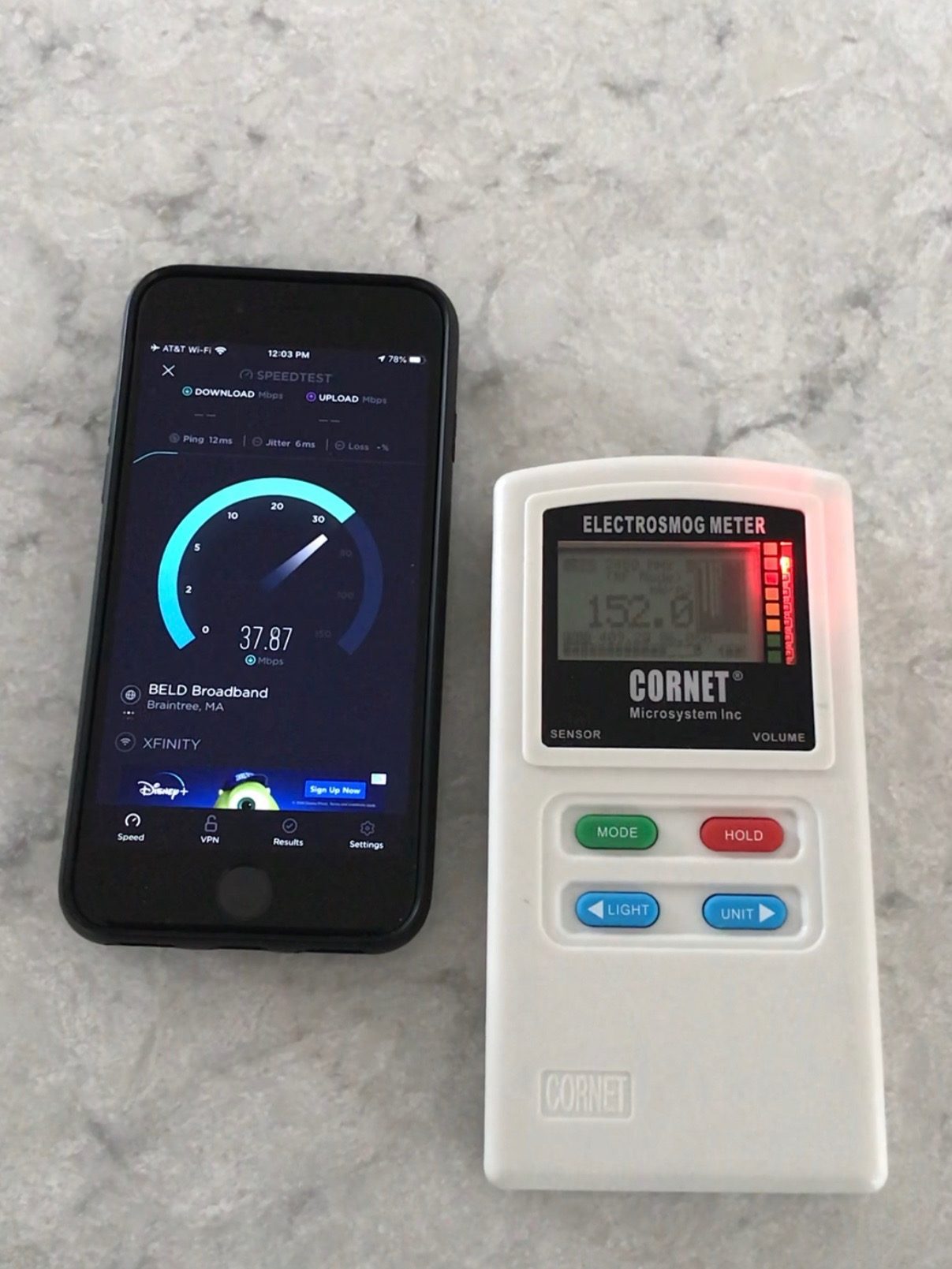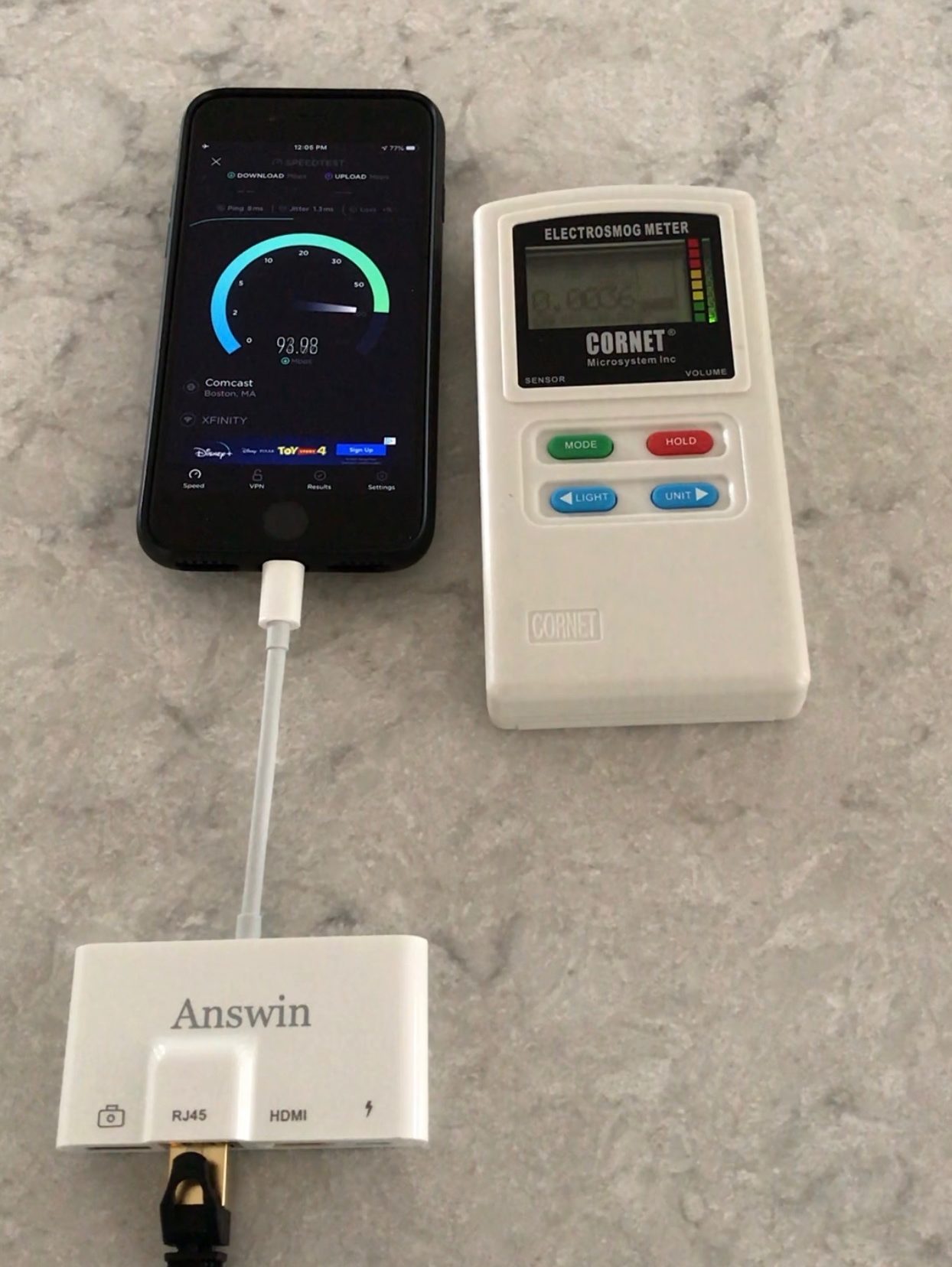 From the images, we can see that speedtest.net recorded peak internet speeds almost 2.5 times faster when the iPhone was connected via ethernet. In order to interpret the RF measurements, we can use the Building Biology Evaluation Guidelines for Sleeping Areas, which categorize RF radiation levels as follows:
| | | | |
| --- | --- | --- | --- |
| No Concern | Slight Concern | Severe Concern | Extreme Concern |
| Below 0.1 µW/m² | 0.1 to 10 µW/m² | 10 to 1,000 µW/m² | Over 1,000 µW/m² |
Building Biology Evaluation Guidelines for RF Radiation in Sleeping Areas
The Building Biology guidelines use units of microwatts per meter squared (µW/m²), but my meter measures in milliwatts per meter squared (mW/m²), so we have to do a conversion before we can compare. A handy tool for converting units is the free EMF Calculator app from WaveControl.
After conversion, we can see that using the phone in Airplane mode with WiFi turned on gives average peak readings of 152,000 µW/m², which based on these guidelines, puts it in the "Extreme Concern" category. When we use the phone in Airplane Mode with an ethernet connection (and WiFi, Bluetooth, and cellular data turned off), we get average peak RF measurements around 3.6 µW/m², putting it into the "Slight Concern" category. Big difference!
How to Measure EMF Exposure in Your Home
Is a Wired Internet (Ethernet) Connection Really Worth It?
As with anything, there are pros and cons of using a wired ethernet connection with your mobile devices. You get benefits like faster speeds and much lower EMF exposure, but being connected to a cable does restrict your overall mobility. In the end, it all depends on your goals.
If your goal is to create a healthy online learning or home work environment, connecting your iPhone or iPad via an ethernet connection could be a win-win.
Learn More
Finally, if you find it helpful to see the numbers, you can check out another example of how a small tweak can make a big difference in Does Disabling WiFi for Sonos Speakers Reduce EMF?
For other simple tips on how you can safely use technology while minimizing the negative effects of EMFs, check out How To Reduce EMF Exposure: Four Easy Ways to Protect Yourself from Electromagnetic Fields.
And if you're trying to create a low-EMF home, see some of my other favorite products.