The use of binders and detox support can be an important part of recovering from mold exposure. But, it's not always the first step. Generally, the recommended first step is to remove yourself from the problematic environment. But that can be much easier said than done. Leaving your home, school, or place of work can be extremely challenging for a variety of reasons. And, along with the difficult decision to leave, come more difficult and overwhelming decisions about what to do with your stuff; Is it safe to keep? What can be cleaned? What can't be saved? It can be a very stressful time, and it can be a major (positive) turning point in your recovery.
While recognizing the importance and difficulty of that first step, this article focuses on the important next step: helping your body get rid of the mycotoxins. Two ways to do this are by supporting the body's detoxification systems using food, supplements, exercise, & sauna, and by using binders to help pull mycotoxins out of the body.
The extent to which this additional support is needed can vary depending on a person's health and genetic status. And the tolerance for the amount of binders and types and amount of detox support can also very significantly from person to person. Many mold patients are extremely sensitive. With detoxification, more supplements or binders and more pain does not mean faster results. It's important to work with your doctor, listen to your body, and move at an appropriate pace.
Mold Recovery: Which Binders and Detox Supplements are Best?
Ok, so binders and detox support are helpful tools. But how do you know which foods, supplements, and binders would help you the most? Unfortunately, there is no easy, one-size-fits-all answer or approach. But, if you know which molds and mycotoxins you were exposed to – either from a urine mycotoxin test (GPL, RTL), or from environmental testing (ERMI, diagnostic plates, etc.) – there are two great resources that can help you and your practitioner narrow down the options.
Best Mold Binders by Mycotoxin
There are several binders that are commonly discussed and recommended for recovering from mold illness. Activated Charcoal, bentonite clay, chlorella, zeolite clay, Rx Cholestyramine, Rx Welchol, … How do you know which one to use?
A 2014 Townsend Letter article titled Mold and Mycotoxins: Often Overlooked Factors in Chronic Lyme Disease, by Scott Forsgren, Neil Nathan, MD, & Wayne Anderson, ND includes a table that can be helpful for selecting a binder. The table (linked here and shown below) lists some common mycotoxins, the molds that produce them, example binders, and a list of potentially contaminated food sources.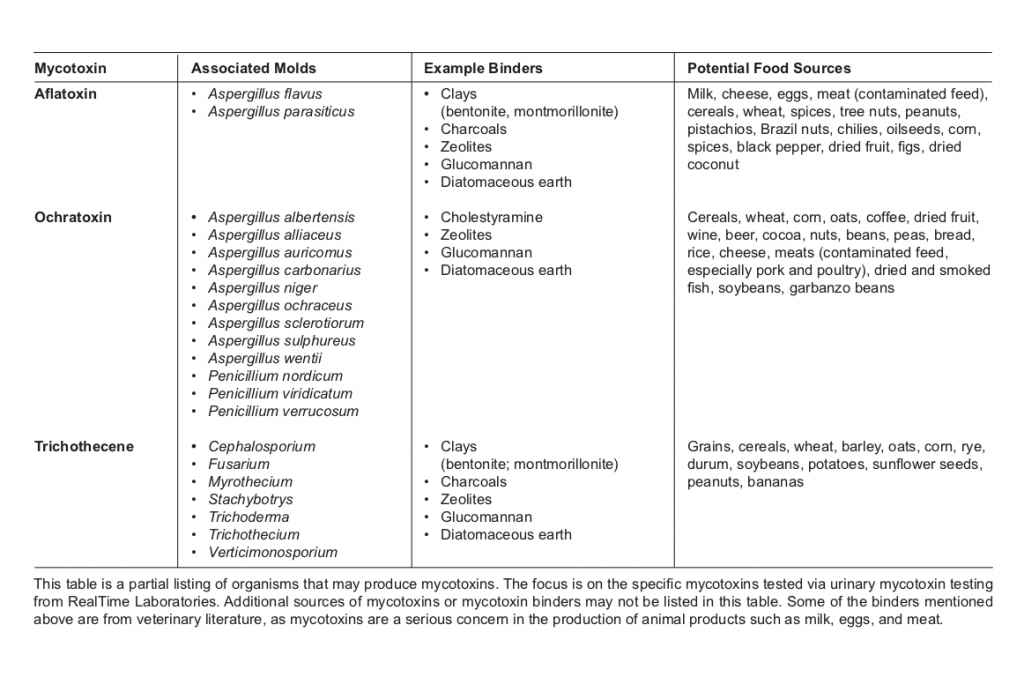 Mold Detox Pathways by Mycotoxin
Another way to aid your recovery from mold exposure is to support your body's detoxification systems. In July of 2020, Dr. Neil Nathan published two tables of information on the Detoxification of Mycotoxins. Different than the table of binders, these tables cover the various ways our body gets rid of certain mycotoxins.
The first table covers detoxification by pathway, listing the key detox pathway(s) for common mycotoxins, as well as foods and supplements that can help support and up-regulate that pathway.
The second table covers detoxification by organ system for common mycotoxins, and provides a list of options for supplemental support.
To hear more from Dr. Nathan, check out his recent interview with Dave Asprey on Bulletproof radio: Episode 733 – The Common Mold: Your Guide to Toxicity, Symptoms, & Treatments.
Recovering from Mold: Additional Resources
Disclaimer: This information is provided for general educational and informational purposes only. It is designed to be shared with your medical practitioner. It is not intended as a substitute for the advice, treatment and/or diagnosis of a licensed professional. This information is to be used at your own risk, according to your own judgment.