If you're a music lover, it's hard not to love the convenience and great sound you get from the Sonos family of speakers. And if you're up-to-date with topics in the functional health space, you may also have started to wonder, what's the EMF output from my Sonos speakers? Can I disable WiFi on my Sonos speakers and still enjoy the convenience and great sound?
I recently got an EMF meter and set out to explore just that.
---
(If you're new to EMFs and are wondering what the heck I'm talking about, start here.)
---
When I first saw that the RF readings from my Sonos speakers were as high, if not higher than the RF radiation coming from my wireless router, I panicked and unplugged them all. I then turned to the internet and found that, in 2019, Sonos made it super easy to turn off WiFi for any speaker connected to your network by an ethernet connection.
However, as I learned from my experience with our combo modem/router from Comcast, disabling WiFi does not necessarily mean that the internal WiFi antennas will stop broadcasting an RF signal; the device may still be pumping out the same level of RF radiation (but that's a story for another day).
So, I remained curious, will this "Disable Wi-Fi" feature for Sonos speakers really do what I want it to? Fortunately, in the case of Sonos, it did! And the speakers remain friendly components of our lower-EMF home.
The Sonos – EMF Experiment
Getting an EMF meter has been a powerful motivator for change. I decided to share the results of this experiment so others could see the numbers and better understand the impact that a simple change (like disabling WiFi or placing the speakers in a different location) can have on their environment.
To test out the impact of enabling/disabling WiFi for our Sonos speakers, I used:
Note: for consistency, our home WiFi network was turned on for the duration of the experiment.
1. Measure EMFs from a Sonos Speaker with WiFi Enabled
To measure the RF radiation from the speaker when WiFi was enabled, all I had to do was plug the speaker into a power outlet. Then, through the Settings in the Sonos app, I verified that "Enable Wi-Fi" was selected. Next, I put my phone back into airplane mode to take RF measurements (and pictures) at three locations around the speaker.
Note: As to be expected, in all 3 cases, the measurements jump around. The photos show representative values after a period of observation.
Yikes!
Note the red light on the EMF meter. Remember those building biology guidelines for sleeping areas? Anything above 10 µW/m2 is considered a severe anomaly. Maybe it's time to re-think having a WiFi-enabled Sonos speaker next to the bed?
2. Measure EMFs from a Sonos Speaker with WiFi Disabled
To measure the RF radiation from the speaker when WiFi was disabled, I made sure the ethernet cable was connected, and through the Sonos app, went into Settings and selected "Disable Wi-Fi". After a brief delay, the new setting took effect. I then returned my phone to airplane mode, and took measurements and photos at the same three locations around the speaker.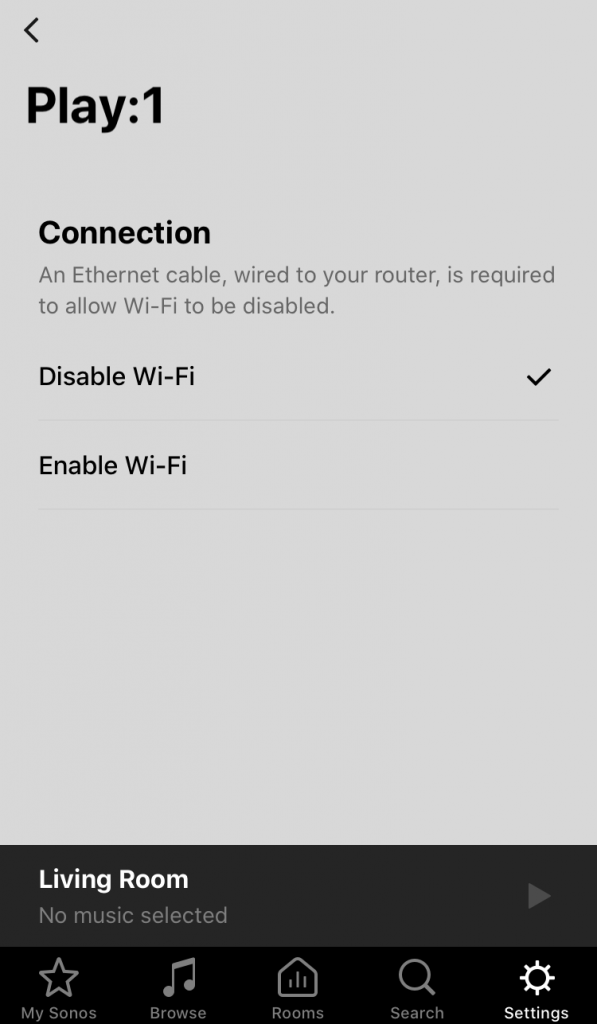 A big difference!
By turning WiFi off, the reading in the location with the highest value (#3) dropped from 816 µW/m2 down to 0.0152 µW/m2!!! Based on the guidelines for sleeping areas referenced above, that takes the level from being of "Severe Concern" all the way down to "No Concern".
3. Compare to the Baseline EMFs
For completion, I wanted to capture a baseline measurement of EMFs in the location of the experiment. To do so, I unplugged the Sonos speaker from the outlet and the ethernet port in the wall, and took measurements and photos from the same three places around the speaker.
The numbers dropped slightly from when the speaker was turned on, with WiFi disabled, but not a lot. From this, we can see that when WiFi is disabled, the EMF impact of the Sonos speaker remains minimal.
Wrap-Up
So, as it turns out, it is possible to disable WiFi on Sonos speakers and still enjoy their convenience and great sound!
If you're not able to connect your speakers via ethernet cables today, I hope seeing the numbers is still helpful. And remember, the strength of the signal decreases with distance. By placing the speakers in a location further from where you work, relax, eat, or sleep, you can still reduce the EMF exposure for you and your family. And, as with any device, you can place them on timers or switched outlets so they can easily be turned off at night, or when not in use.
Because we are able to wire our Sonos speakers via ethernet connections and have the Sonos Controller App for Mac, we are now able to turn our home Wi-Fi network off and still enjoy the magic of room-filling Sonos sound.
Thanks Sonos!
Still Curious About EMFs?
Whether you're interested in reducing your family's exposure to EMFs, or have another health goal on your mind, don't hesitate to reach out!